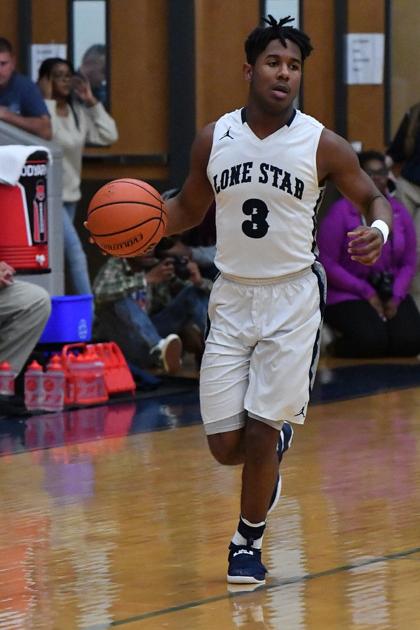 Revenge is sweet, but being crowned district champions is sweeter.
Lone Star was able to snag the 13-5A District title on Tuesday night after pounding Frisco, 55-38, avenging a 21-point blowout suffered at the hands of the Raccoons a few weeks prior.
"It feels great from where we came from last year, going 7-20 and having a young team," said Keith Connor, Lone Star head coach. "Guys just bought in and they all played for each other. We started off the year with a very tough schedule, and guys responded to it. We're happy tonight, but we're still not satisfied."
The Rangers were able to escape the brutal FISD district schedule with an impressive 13-1 record, with the only loss against Frisco. The Rangers came out in the rematch with a different approach and game plan, and it paid dividends.
"They played really good defense and credit them, they did some things defensively that made it difficult to get the ball inside," said Andrew Steele, Frisco head coach. "We feed off of post entries and that frees up our shooters. When we flip that table to where we're struggling to enter it, now our guards are forcing shots, and shooting percentage goes down."
Frisco, who never led in this contest, kept things tight until an 8-0 Lone Star run to close out the first half pushed the Rangers' lead to 10.
During that mark, the Raccoons offense would sputter wildly as Steele's squad would just post three points in the entire second quarter.
"We can't have a three-point quarter and expect to do anything," he added. "That was one of our poor shooting nights of the year. We get behind a few points and you feel that pressure a little bit, you try and do things that are outside of your character.
Senior forward Ethan England led that charge for Lone Star, scoring four of his 16 points in that span before heading into the halftime locker rooms.
After showing some life when scoring the first four points of the third frame to cut the deficit to just six, the Frisco train would then derail once again, and this time, it was on the defensive end.
Lone Star leading scorer and four-year starter, Cameron Gooden, took total control of the game as the sensational senior sparked an 11-3 run, pouring in all 11 of the Rangers' points.
He would get his buckets in a variety of fashions in the third stanza, but most impressively, Gooden knocked down three straight shots from long-range. The six-foot point guard nearly made it four from downtown in the quarter, when he was fouled in the act of shooting and just barely missed the mark.
"He's a spectacular player," Connor said. "That's why he has been a four-year starter for us and he's going to leave Lone Star as the all-time leading scorer. He took over the game tonight and he did what players of his caliber are supposed to do."
Despite the dazzling shooting display in the third, perhaps the play of the night occurred in the final quarter once the outcome was decided.
With the Raccoons scratching and clawing at a potential comeback with just a few minutes remaining, Gooden would lead the way on a fast break and finish it off with a sledgehammer of a throw-down to put the exclamation point on the victory.
"He's been doing it for two years now," Connor added. "He's a very athletic kid and one of these colleges will get a steal."